When you're traveling between your office and various job sites, it's important that you still have access to all of your software and data. Many contractors and builders utilize iPads to create a mobile office, but are disappointed by the inability to use their software as if it were installed locally on their tablets.
Cloud Hosted Construction Software for iPad Benefits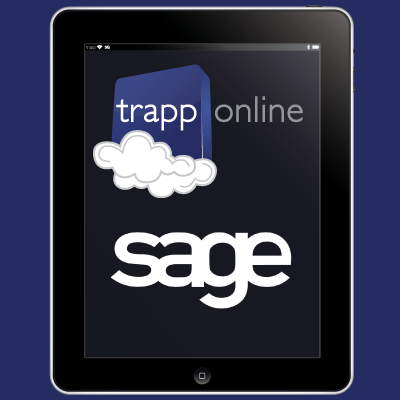 The iPad has changed the way that business owners and financial professionals conduct their business each and everyday around the world. With over 80 million iPads sold throughout the world it just makes sense to have full featured access to all of your accounting data right at your finger tips. What can be frustrating, however, is that the apps available for download can be pretty restricting. You don't have the ability to use all of the features you need to get work done. The solution is to get a cloud hosted construction software for iPad.
With Trapp Technology, you will have access to all the features of your software right there on your iPad just as if you were at home or at the office with your locally hosted version of your software.
Construction Industry Software
So what construction software can you host in the cloud? Trapp Technology offers premier cloud hosting of Sage 100 (Sage Master Builder) and Sage 300 CRE (Sage Timberline), as well as many other brands of software.
Why go to the cloud?
Access your documents anywhere, anytime.
Many companies have considered operation in a paperless environment to save office space, time, effort, and money. iPads may be used in a paperless environment as a new conduit to access all the information stored electronically. Send new assignments quickly and easily, and collaborate effortlessly in real time.
Enhanced client meetings
Once the iPad is connected to electronic documents, construction professionals can replace the piles of paper typically generated from meetings with one simple device. Also, during the course of a meeting, construction professionals may access the firm's CRM to refer to historical notes or schedule a future appointment instead of deferring these tasks until after the meeting.
Increase in efficiency and time management.
The iPad is portable, internet ready, and easier to carry than a conventional laptop. Writing up reports and transmitting them to the home or office can be done instantaneously.
But I'm an Android tablet user! No problem. Trapp Technology's cloud solutions work with both iOS and Android devices.
Related Articles: