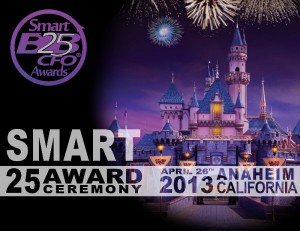 We mentioned earlier this week that we have been recognized by B2B CFO's Smart 25 Awards for both "Number of Jobs Added" and "Job Increase Percentage." David Trapp, Greg Forshey, and Josh Weidman, our Network Administrator, will be travelling to Anaheim, California to accept the awards at the ceremony on Friday, April 26. We will also be taking part in a Winners Meet and Greet before the ceremony, and we're looking forward to networking with the other honorees.
Be sure to check our Smart 25 Awards full press release here!
We'll be tweeting about our day using the #smart25 hashtag. Follow us on Twitter to stay posted!
More info about the Smart 25 Awards
The Smart 25 Awards ™ honor the risk takers of the United States. They are the owners of closely-held companies that create employment for approximately 70 percent of Americans. The Smart 25 Awards ™ recognize these entrepreneurs for their contributions to our economy and our future.
At the awards gala, B2B CFO is honoring sixteen American businesses for their trailblazing efforts to positively impact the economy through expansion, job creation and smart management. An independent panel of thought-leaders from the business community selected the winners.
Congratulations to all of the other Smart 25 Award winners, we'll see you in Anaheim!