To say that Trapp Technology had a great year would be an understatement. We've worked hard, so we figured it'd be nice to look back on a year in which we grew so much!
5. Partnerships. Trapp Technology joined forces with influential, successful companies this year! When paired with a software company or reseller, Trapp Technology's cloud solution truly becomes a self contained, efficient system that improves businesses workflow and efficiency.
4. Launch of Trapp Tech. On November 14, we officially launched Trapp's managed services division. The new company offers managed on-site, colocation and hosted IT services as well as blended bandwidth Internet and IT consulting to mid-market companies in the U.S. and internationally.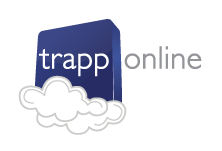 3. Launch of Trapp Connect. On August 10, the Trapp team grew by one company with the launch of Trapp Connect, our blended bandwidth ISP. Trapp Connect has grown very quickly, with new and existing partnerships developing continuously. We're exceptionally proud of this company, as it was born out of pure necessity. The infrastructure that we so laboriously and meticulously created for our Trapp Online cloud customers was made available to businesses, and we're thrilled to see how well it has been received.
2. B2BCFO Smart 25 Awards. In April, we were named a winner in two categories at the prestigious Smart 25 Awards honoring closely-held companies. The awards, for "Number of Jobs Added" and "Job Increase Percentage", were presented April 26th, 2013 at The Annual B2B CFO Meeting at Disney's Grand Californian Hotel, Anaheim, California. The Smart 25 Awards honor the risk takers of the United States. The Smart 25 Awards recognize these entrepreneurs for their contributions to our economy and our future. In all, sixteen businesses were recognized, and we were (and still are) very proud to have been honored at the event.
1. We GREW. The rate at which Trapp Technology is expanding is downright exciting. In 2013, Trapp Technology's staff grew by 88%. We added additional office space, implemented a new support ticketing system, as well as a new call center management system, and hired a veteran technical support center manager. We purchased $1.3 million in equipment, and we are converting our internal accounting over to SAP. Trapp Technology played an instrumental role in the opening of a landmark data center in Chandler, where our blended bandwidth solution is being implemented. We now provide hosting for over 2,000 businesses with 12,000+ users, making 2013 a banner year for Trapp Technology.
Follow our Facebook, Twitter, and LinkedIn for all your Trapp Technology and Cloud Hosting updates!