Sage 50 US Cloud Hosting: All the Benefits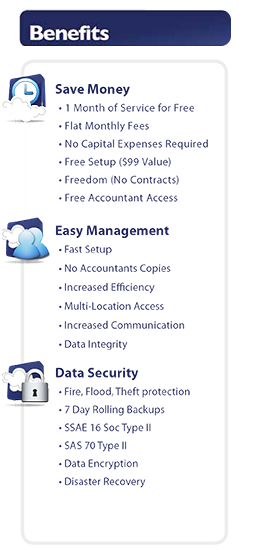 Through our years in the software hosting industry, we've come to find that a company's applications and data need to be retrieved more quickly and efficiently. By hosting your software through Trapp Technology's cloud solution, you will be provided with instant access to your Sage 50 US Edition software (formerly known as Peachtree), reliable and friendly support staff, a flat monthly rate and no hidden costs. With a simple internet connection, your application and data are accessible anywhere, anytime, on any device. Stay cutting edge, while not investing in the large cost of capital IT Equipment, while having the flexibility for growth when you land that next project.
Sage 50 US Edition in the Cloud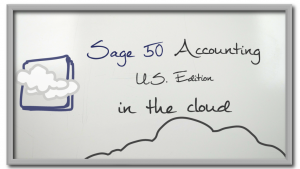 The cloud can be a one stop shop for your company's IT needs, and it's incredibly easy to get started and make the move. Connecting your team, files, and data securely together in one central location ensures your entire team can share and access project information anytime, anywhere from any device.
Multi Location Access. Get quick and easy access to your software anytime, anywhere with an internet connection.
Device Compatibility. Use your operating system of choice! Our cloud works with PC, Mac, Android, and iOS devices.
Peace of Mind. We run nightly backups in a certified, SAS 70 type II, and SSAE 16 SOC Type II, Tier III data center.
Flexibility. Add supplemental apps to your cloud and have everything in one place.
Trapp Technology has been a lifesaver in my office! With the cloud computing service offered by Trapp Technology, I am able to work from any Internet connected computer, saving me time and travel.
— The Jennings Group
Looking for more information?
Visit the My Sage 50 Cloud website, or get in touch with us directly. We're happy to help you determine the perfect solution for your business.

Want to see what the cloud can do for your company? We'll build you a customized cloud that you can use for 30 days, free of charge — we don't even ask for your credit card information.
Have a solution that you feel would require some extra attention? No problem. Chances are we've done it before! Feel free to get in touch with any questions.