Want Fishbowl Inventory software integration with your Trapp Technology QuickBooks Accounting Cloud? Here's what you need to know!
Third-party application integration is Trapp Technology's forte. That's because each of our clients have a customizable cloud that makes 3rd party application integration and add-ons extremely easy and affordable. Trapp Technology can support your need to elevate your QuickBooks Accounting Cloud with Fishbowl Inventory Software.

Fishbowl Inventory Software Integration with QuickBooks
What is it? Fishbowl Inventory software integration combines the main features of Fishbowl logistics, manufacturing, and warehouse management software with your QuickBooks cloud server. Small businesses that seamlessly integrate Fishbowl software with QuickBooks cloud gain inventory management functionalities such as automatic invoice and packing lists, generate detailed sales and inventory reports, barcode scanning, tracking, and advanced manufacturing tools.  Import and export customer, vendor, parts, and quantity data between QuickBooks and Fishbowl to eliminate double data entry, improve accuracy, and maintain updated accounting records.
Compare the capabilities between QuickBooks by itself vs. QuickBooks with Fishbowl Inventory software Integration below: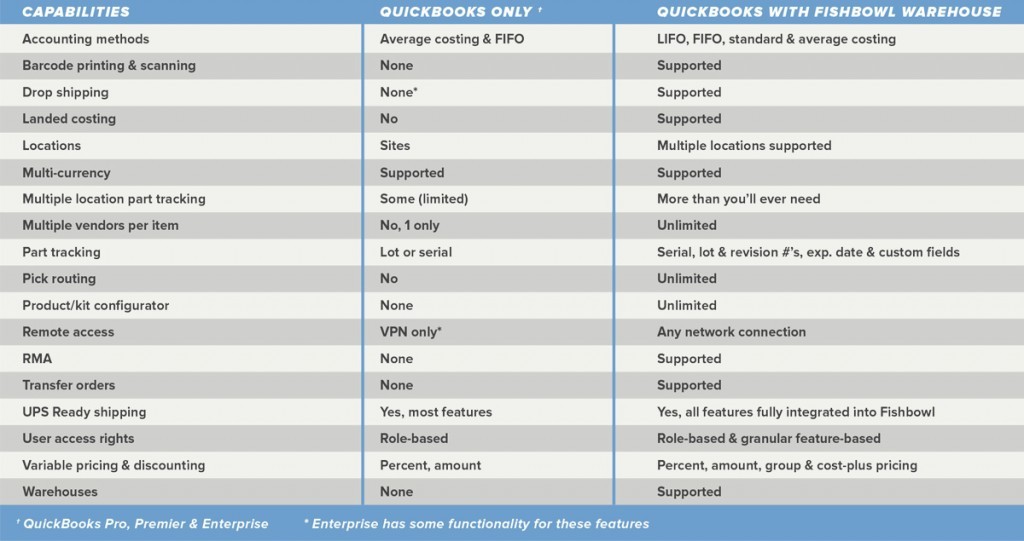 How does it work?
Trapp Technology offers the option for Fishbowl Integration to all our cloud customers! That means we can add Fishbowl software to your dedicated Accounting Cloud server, and they can communicate and collaborate on the same system with shared resources. Both Intuit QuickBooks and Fishbowl Inventory applications and data are housed in our state of the art data center in Scottsdale, Arizona, and receive all the benefits of Trapp Technology's ultra-secure cloud!
What are the benefits?
Fishbowl Inventory software undergoes redundant nightly backups in addition to 7 day rolling periods. Users can access QuickBooks and Fishbowl software from any PC or Mac desktop, laptop, iPad or Android tablet, or smartphone with simple Internet connections- anytime, anywhere! As always, Trapp Technology customers can contact our responsive and knowledgeable Support team here or by calling phone number 1.877.942.2568. 
Where do I start?
Read to integrate Fishbowl Inventory software with your cloud hosted QuickBooks for an affordable, flat monthly price? Contact us here and we'll get right on it! Don't forget, we can customize your Trapp Technology Cloud with other third party applications besides Fishbowl Inventory software integration, including Microsoft Outlook, and MS Exchange – learn more here.
Related Articles: