The Strengths of Cloud Hosted QuickBooks Desktop
Financial professionals are aware, there is an ongoing debate about whether using QuickBooks Online is just as good as Cloud Hosted QuickBooks Desktop. Here are the facts and key information to settle this great debate.
Intuit's fiscal year 2014 fourth quarter revenue reported that QuickBooks Online (QBOL) subscription grew 40%. Not surprisingly, financial and accounting professionals look towards online subscriptions for its convenience and accessibility, especially when time, is literally money.
As per Intuit: Brad Smith, Intuit's president and chief executive officer, cites this growth as "fueled by the success of our reimagined QuickBooks Online product experience". But despite the numbers, QBOL customers are still left without integral features only available on cloud hosted QuickBooks desktop.
Here's a visual chart of QBOL vs. Cloud Hosted QuickBooks Desktop on Trapp Technology's Accounting Cloud: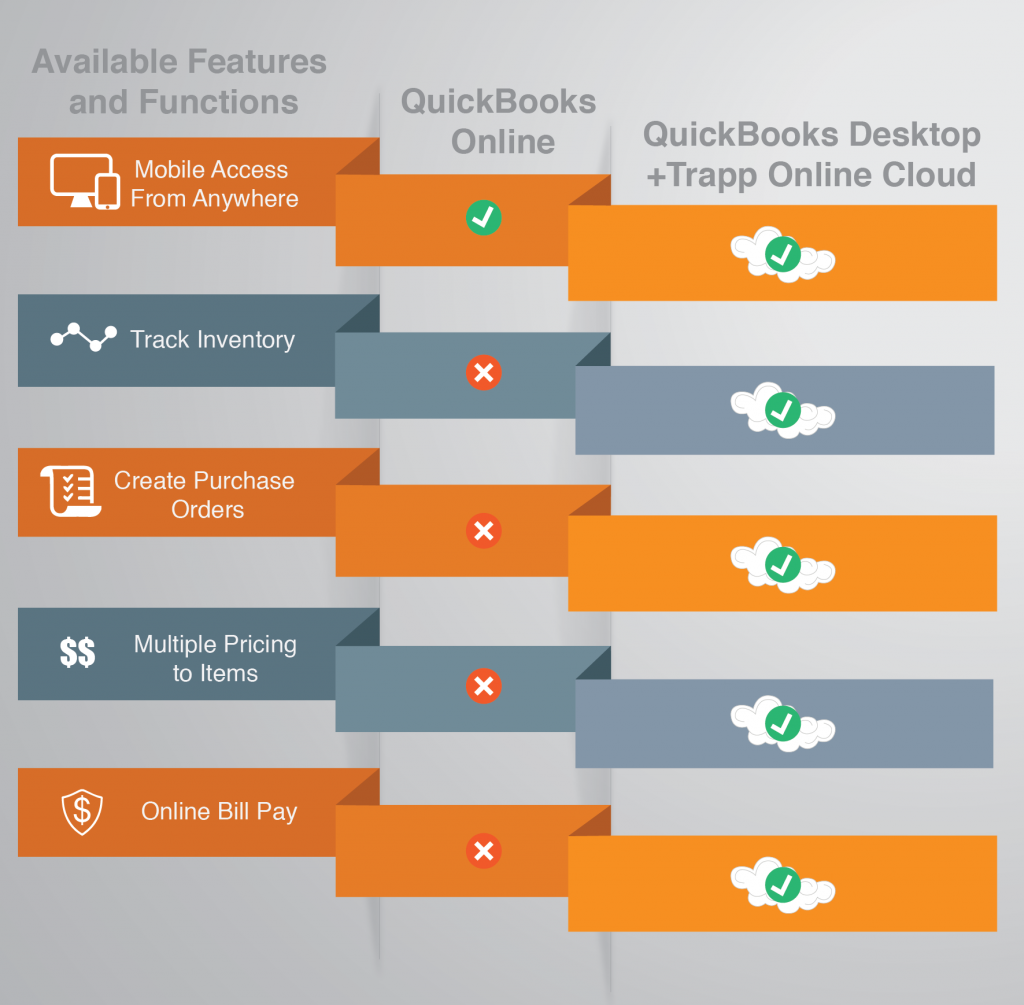 Why settle for inadequacies when you can have the best of both worlds?
QBOL does not integrate with QuickBooks Point of Sale, or Bill Pay, or complete job costing, as only QuickBooks Desktop versions do.
QBOL offers less flexibility with regard to customizing forms or reports than QuickBooks Desktop versions.
Cloud Hosted QuickBooks Desktop:
As one of the leading QuickBooks hosting providers in the SouthWest, Trapp Technology combines the convenience and accessibility of QBOL with the complete features of the Desktop version, with Hosted QuickBooks application on our ultra-secure cloud. Check out our quick video explaining Cloud Hosted QuickBooks vs. QuickBooks Online.
Small Businesses, CPAs, and financial professionals on every level can have the look, feel, and functions of QuickBooks desktop, and all their client's data in real-time, available anytime, anywhere, and on almost any device with internet capabilities. Read more helpful articles on Cloud Hosted QuickBooks desktop here.
Related Articles: