Why Proprietary Software Is Great For the Construction Cloud
The construction industry has made it clear that proprietary software trumps free construction software in many ways. A recent study made by Software Advice shows that the satisfaction construction companies experience from proprietary software 40% higher than using free software. See how this benefits the industry and construction cloud technology.
What is "Free" software and "Proprietary" software? Free software is referring to software that is licensed for use free of charge while proprietary software is either a one-time or recurring fee for the license to use the software. Each has it's advantages and disadvantages for the construction industry, especially in terms of the construction cloud.
The chart below shows the satisfaction levels of people using Free VS. Proprietary software: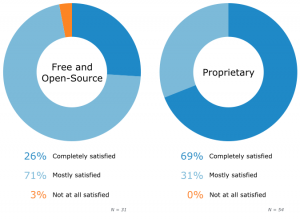 As you can see, proprietary software is satisfying construction workers at a much better rate than free software. These are some of the key areas where Proprietary software won for Construction companies: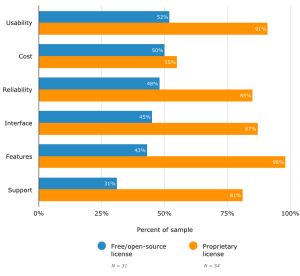 These are all incredibly important aspects for your software and something you should keep in mind when you decide to use the construction cloud. Your construction cloud provider needs to provide the right tools to give you the best experience with your software. A private cloud provider is able to hit all of these key points to make your software as valuable to your company as possible.
On the private cloud, you don't have to sacrifice any of your features or interface while you benefit from intuitive usability on a reliable service. The private cloud is a popular solution for giving you more mobility with your construction software. A private cloud is able to maintain all the best benefits of proprietary software.
Usability:
The private cloud hosts the exact software you need. So it works exactly as if it were hosted on your own computer. The construction cloud makes your software available through any device and location without changing the actual software. This means you don't have to relearn the software and can quickly get back in the action.
Reliability and Support:
You can always count on your proprietary software to work. The construction cloud specializes on providing top of the line technology to keep your data available 24/7/365. When your software is having issues, you can still contact the software company to have the issues resolved. The same goes for your construction cloud access. Your company gets full time support from your cloud provider to ensure that you never lose connection.
Interface and features:
Putting your software on the construction cloud doesn't mess with your interface at all. You can count on having the tools you love using with your software. Your company knows how important it is to have the right features in place. The construction cloud is great for companies because it lets you use the same tools wherever you access your software.
See the full study on Proprietary software here at Software Advice and find the best way to take advantage of the Construction Cloud.
Related Articles: