Construction Cloud Hosting Improves Software Functionality
The construction industry has a lot of tools at its disposal to make their projects run more efficiently. With new software, they can take hours or even days off their process and complete their work quickly to focus on the next project. Unfortunately, the industry is slow to adopt construction software and misses out on the opportunity to out perform their competitors.
Trapp Technology specializes in cloud hosting and providing software solutions that give mobility, flexibility, and strength to the construction industry. We host construction software on a cloud environment that keeps all information accessible from a remote location on any device and updates information in real-time. The cloud is an incredibly powerful tool for construction software and can be used to address current issues.
In a recent study by Software Advice, a firm that matches construction management software buyers with vendors, they took a look at the reasons prospective construction software buyers look into software and what keeps them from adopting those solutions. Their findings were insightful to say the least and it is important to analyze why the industry has been slow to adopt and what improvements need to be made to close that gap.
Software Advice found that the prospective buyer of construction software currently uses pen and paper as their primary method. 52% of the demographic in the study was found to use pen and paper followed by 32% using spreadsheets. While many buyers use multiple methods to keep track of their data, a large amount are still writing things down physically. Only 21% said that they used construction software in their business.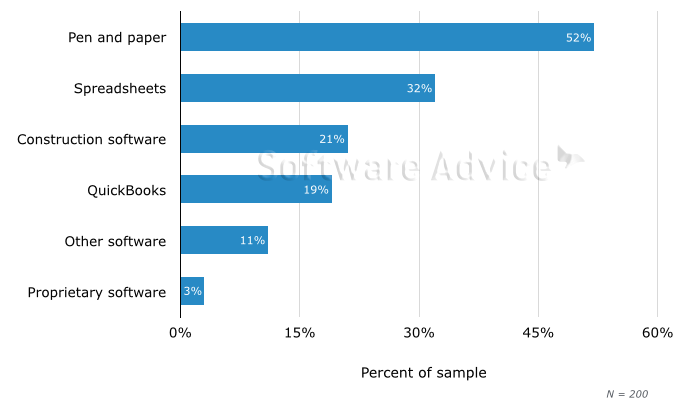 Image from Software Advice
"I'm probably putting in three to four 10-hour days to do estimates for a small batch of projects," is what one of the project managers in the study had to say. That is 30 – 40 hours a week dedicated to writing up estimates. If software is specifically designed to fulfill these needs, why are so many still using traditional methods?
Forrest Bunson, the researcher who wrote the report, said "It's not unsurprising that so many prospective buyers are still using antiquated methods such as pen and paper to execute various construction project processes. While many construction professionals can easily whip up an accurate estimate on pen and paper, for example, it inevitably becomes an issue of scale and maintaining organization as their business grows. Competition is fierce in the rebounding construction industry, so prospective buyers need every edge they can get to maximize the number of bids they're sending out and ultimately winning."
The study shows that the top reasons prospective buyers look into construction software are to improve estimating and bids. While there are many solutions to improve these processes, many of the current software users say they are dissatisfied with their solution. Their dissatisfaction stems from solutions not providing live updates. The constant change in material costs causes inaccuracies in estimations.
Image from Software Advice
The last part of the study revealed that the construction industry only dedicates about 1% of its revenue to an IT budget. These small budgets also aren't focused on software but cover other costs like salaries and overhead. This leaves minimal room to implement new technologies or solutions that can benefit the company.
Forrest continued to state that, "The budgetary issues are also interesting. While prospective buyers in the construction space typically spend significantly less on software and IT compared to other industries, the good news is that there are more affordable construction software solutions than ever."
The construction cloud hosting Trapp Technology offers focus on making software solutions that fit the business. Construction software is a solution that works incredibly well on the cloud. Hosting construction software on the cloud allows a worker access live data in the office, on-site, or from any location simply by logging into their account on an Internet enabled device. With construction solutions becoming more affordable, it is leaving a lot of room to grow IT departments and implement more construction software.
Live data is key to the construction business looking to remain competitive when creating estimates and placing bids. A construction cloud gives the industry a solution that keeps data live and accessible at a moments notice. On the cloud, the construction industry has greater scalability and can easily create a solution that fits their needs. They also get more project flexibility with improved access to their construction software.
Learn more about construction cloud hosting by Contacting Us and host your software with a 30-Day Test Drive!
Read the full study – Source: Construction Software BuyerView 2015