Login to the Cloud From A Mac With Remote Hosting
Your cloud is compatible on every device. The way you access it can be different when you use a different operating system or device. This is how you login to the cloud from a Mac to access your files
Mac users are passionate about their operating systems, but are faced with problems when it comes to using their Windows-based programs on their Apple products. While there are existing workarounds, none are a true seamless solution, and the errors and hiccups users experience negate the benefits of working on an Apple machine. They need a solution to login to the cloud from a mac to access their private, secure environment.
Some of our most satisfied customers are those that use Windows programs on a Mac. For example, Coaction Group is a Mac-only office that was determined to find a way to seamlessly use their Timberline software. Glen Adams, Principal of Coaction Group said, "Getting Macs was the best decision I ever made… Putting our Timberline applications on the cloud keeps us in the Mac world, saves money and eliminates all of the usual IT problems… The data security of the cloud means I can sleep at night."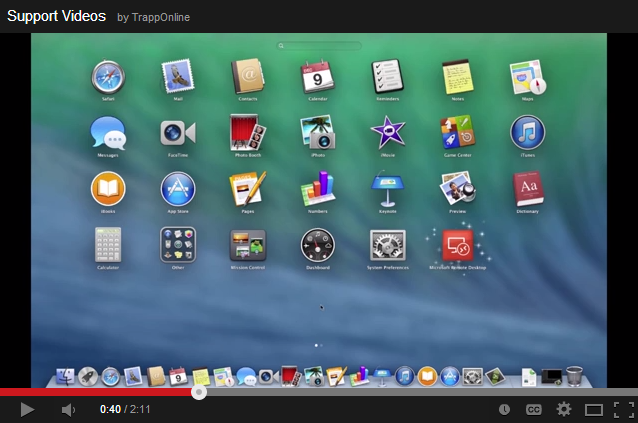 So how do we login to the cloud from a Mac?
Here is how it works: When you move to the cloud, Trapp Technology installs your windows-only software on their servers located in Phoenix, Arizona. All of your data and your software itself will reside on our Cisco UCS servers. Our servers are optimized for higher user efficiencies, faster set up times, a more resilient and reliable network, as well as increased scalability.
Once your software is installed, we create a secure portal to login to the cloud from a Mac for your business through programs like 2X or Windows Remote Desktop. All that is left for you to do is turn on your Mac and access your software and data remotely from your Trapp Technology server. Your software works seamlessly with your Mac, and you're able to rest easy knowing your software is securely housed offsite where it's subjected to nightly backups in addition to a 7 day rolling backup for extra redundancy.
Our support team has outlined a step-by-step tutorial to help you log in to your Trapp Technology cloud from a Mac to get you started!
Related Articles: