Update Your Contact Info Via Support Help Desk
Did you know the Trapp Technology Support Help Desk page is designed as a convenient, all-in-one portal to give you quick and ultra-secure access and control over your personal account? Take a look at the things you can do all by yourself!
Start by visiting helpdesk.trapponline.com, and choose Update Info.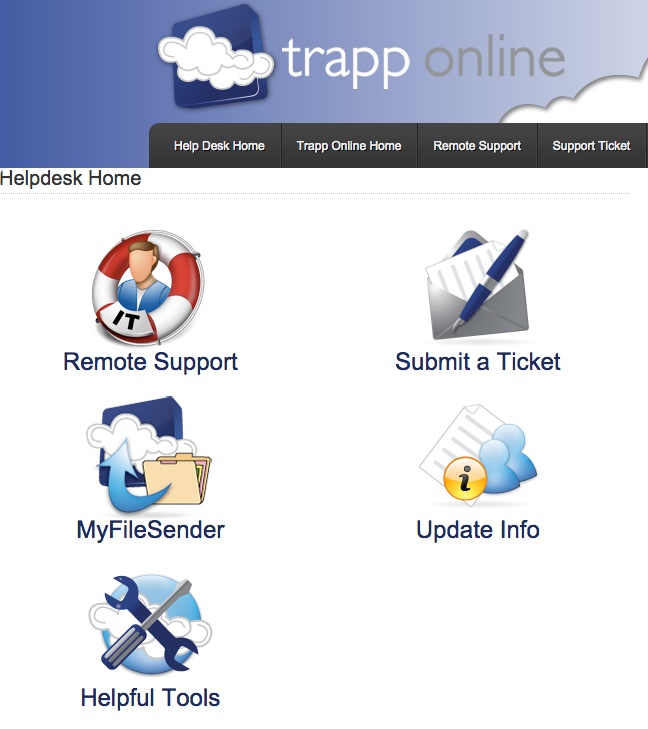 On the Update Info page, you've got a variety of self-serving options such as
Update Contact Information
Update Financial Professional
Add/ Update Software
Add/ Remove a User
Update Payment Information
Other Requests.
Make sure to fill out all the required forms, noted by an asterisk (*), to ensure accurate changes to your account.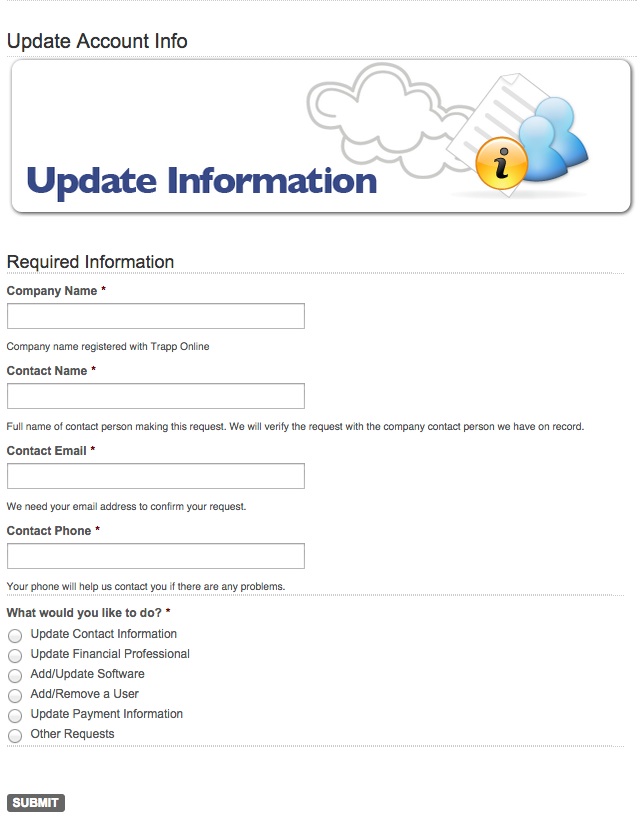 How to Update Contact Information on Trapp Technology Support Help Desk:
It's easy to update or change your contact information on the Trapp Technology Support Help Desk! Choose the bullet "Update Contact Information" and a form should automatically generate.
You can now update your Contact information by filling out the form with your new Contact Name, Email, Phone number, Fax number, and Address.
Trapp Technology Support Help Desk Tip:
Updating a Primary User's personal contact information may affect Accounting and Billing, and therefore may require personal assistance from Trapp Support.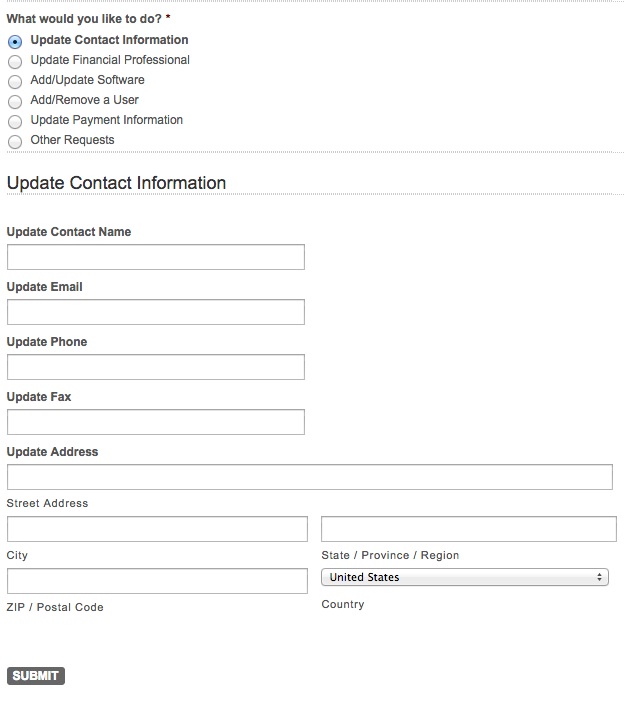 Once you hit Submit, Trapp Technology Support members will receive a ticket with your information and in most cases, immediately make the appropriate changes to your account. Thereafter, you will receive an email confirming updates to your account. It's that easy!
In the event that the issue cannot be resolved, someone from Trapp Technology Support will get in contact with you via phone or email as soon as possible.
Of course, if you prefer to speak our live, U.S.-based Trapp Technology Support team, or have general inquiries about a technical issue, please call Trapp Technology Support phone number 877.942.2568 x3. To streamline any major changes to your account, we recommend having the Primary User call or have them readily available for account verification.
Interested in more Help Desk tips? Take a look at these Trapp Technology Support related articles below!