Cloud Computing Cost Comparison: CapEx vs. OpEx
Upgrading your technology can get pricey. Actually, pricey is probably quite the understatement. When you realize that you need a substantial change in IT infrastructure, you're probably going to want to be sitting down when you hear a price quote. The direct costs related to building and running a server are vast: power, floor space, storage, and IT operations to manage those resources. Not only will it require a large initial chunk of capital, but it will also take up quite a bit of time to create and maintain.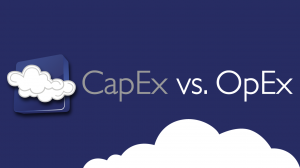 Cloud computing gives you the freedom to enjoy an enterprise-level IT infrastructure without a large up-front cost. See how the cloud measures up in this CapEx vs. OpEx comparison.
In order to establish a solid, in-house IT infrastructure, you're looking at two hurdles — one being the initial financial cost, and secondly, the resources needed to maintain it. If your software requires extensive minimum hardware requirements, the logical next step is to look at the cloud. 
An easy comparison would be a rental car – when you rent a car, you make a short commitment to use that vehicle for the time you've requested. Once you've paid for that use, you aren't obligated to make any additional financial commitments. Need more time with the car? Just pay for the days you need. It's the same in the cloud. All you pay for is the space you need on the hosts servers, and nothing more. If you need additional resources, they're easily obtained for a drastically lower price than what you would spend if you were to personally house your IT resources.
30-Day Cloud Test Drive
Related Articles: