Cloud Hosting for Schools and Educators: Things to Know
The impacts of cloud computing for businesses are well-known by now. Security, increased efficiency, and a better use of IT budget are the now Cloud 101. But just as important to note are the additional benefits of cloud hosting for schools, colleges, and educators.
The way educators are teaching and students are learning is evolving alongside modern technology. It should come as no surprise that The Schools and Libraries Program of the Universal Service Fund, more commonly known as the E-Rate Program, is revamping policies to focus on supporting 21st Century Technologies, such as smart devices, Wi-Fi, and the Cloud.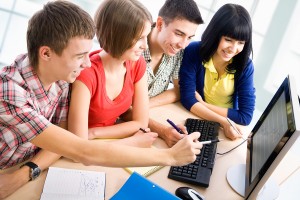 According the latest report from Project Tomorrow's Speak Up online survey of over 400,000 teachers, administrators, students and community members, Technology helps students:
apply academic concepts in real world problems (58%)
take ownership of their learning (57%)
develop problem solving and critical thinking skills (57%)
Educators utilize digital content, such as virtual labs, videos, real-time data, and online textbooks to increase engagement (79%) and to address evolving learning styles (72%).
The Cloud Computing ecosystem, which includes Software as a Service and Internet connection, should be leveraged to support evolving teaching and learning styles in today's digital age. Here are more ways educators, students, and the education system can benefit from cloud hosting for schools:
Accessibility: Through any device with internet capabilities, lesson plans, presentations, grades, and vital student information is now accessible for Educators, anytime, anywhere. For students, homework, class notes, and even textbooks are conveniently stored in one place, so there's never an excuse to forget work at home or miss material due to an absence.
Collaboration: Processes such as group projects, assignment submission, or shared lesson plans with other teachers, are streamlined and protected by the cloud. Students and educators can confidently collaborate through a shared knowledgebase in real-time and with the most up-to-date information.
Security: As with all cloud-based technologies, the privacy of data is a top priority for users. The cloud is easily capable of having multiple securities in place to protect private information and data from unsolicited sources. However, schools must also implement clear policies and practices to enforce security from within.
Sustainability: Small changes can make a difference when it comes to paper and energy consumption. With the Cloud, the need for excessive paperwork, and the energy required to create thousands of copies, are greatly reduced, if not eliminated. Syllabi, quizzes, tests, homework, and handouts are digitalized, creating less environmental waste with every edition and distribution.