Sage DacEasy Accounting Software Cloud Solutions
Trapp Technology's ultra-secure Sage DacEasy accounting software cloud hosting service was designed to help make your business more successful. Trapp Technology was founded on the idea that a company's applications and data need to be retrieved more quickly and efficiently.
By hosting your software through Trapp Technology's Sage DacEasy accounting software Cloud solution, you are provided with instant access to your information, reliable and friendly support staff, a flat monthly rate and no hidden costs. Simply with your internet connection, your DacEasy cloud application and data are accessible anywhere, anytime, on any device.
Access your data from anywhere with Trapp Technology's Cloud Hosting for Accounting and Tax Software
When you use Sage DacEasy accounting software in the cloud, you can log in to your software from your PC, MAC, Android Tablet, or iOS device such as iPad or iPhone. You have the freedom to access all of your accounting information anywhere with an internet connection! In addition to enjoying DacEasy accounting software remote access, your employees can work together seamlessly with DacEasy multi-user access. You simply log in to your personal Trapp Technology portal page and you will have full featured access to your accounting software whether you are at the office, at home or travelling the world!
Accountants Cloud
Have you ever needed your trusted financial advisor to have access to your accounting data? With the accountants cloud you can authorize your advisor to have access to your files through a unique portal only available to them. From their portal they can have access to all their clients with a click of a button, making life easier for them which translates to a better relationship for you. With large tech giants like Apple adapting to the cloud with their iCloud, the technology is becoming familiar to the accounting world.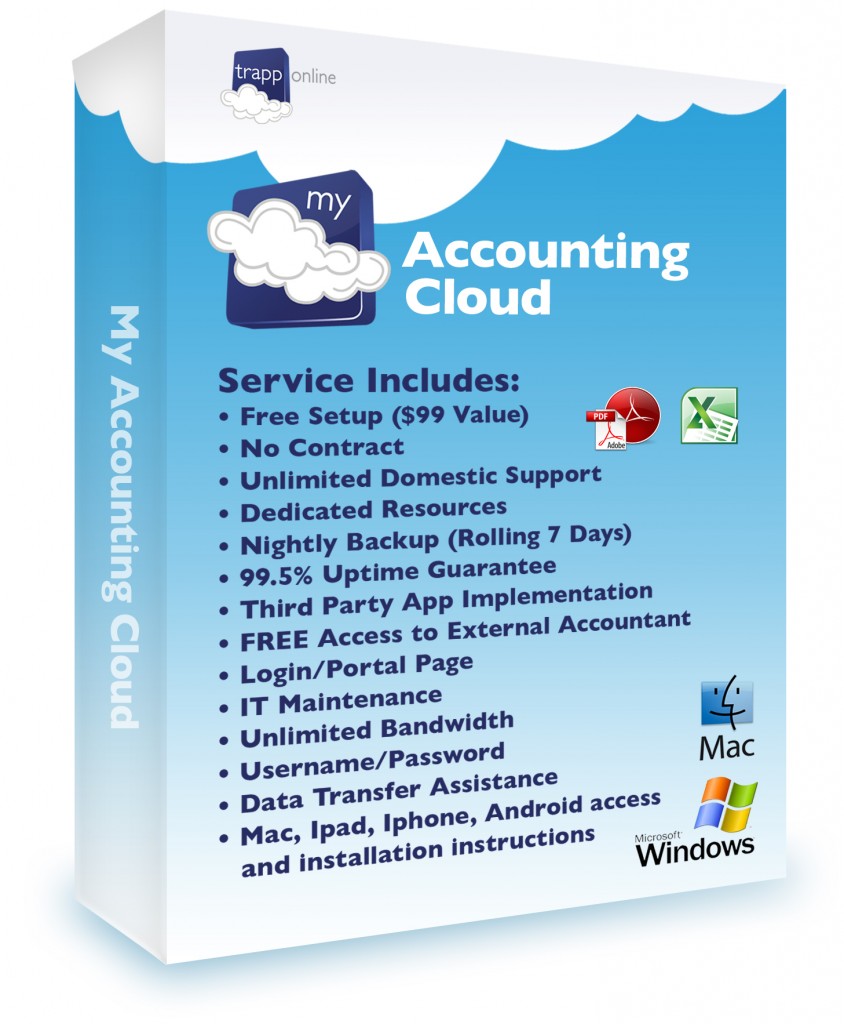 We host many types of software, including different country versions. Contact us today to see if we can build a cloud for your software solution! The benefits to your business are endless when you host your Sage DacEasy Accounting Software
Key Benefits:
Save Money
• 30 Day Trial
• Flat Monthly Fees
• No Capital Expenses Required
• Free Setup ($99 Value)
• Freedom (No Contracts)
• Free Accountant Access
Easy Management
• Fast Setup
• No Accountants Copies
• Increased Efficiency
• Multi-Location Access
• Increased Communication
• Data Integrity
Data Security
• Fire, Flood, Theft protection
• 7 Day Rolling Backups
• SSAE 16 Type II
• Data Encryption
• Disaster Recovery
Related Articles: