How To Overcome 3 Cloud Fears
We all have fears, especially when it comes to our businesses. Any big decision is important and we understand that the risk needs the proper research. Can something as big and complex as the cloud really be the right choice for a business? What is it, how fast can it be implemented, and is it safe?
You are looking into cloud computing but you aren't quite sure what you're getting yourself into. You may have heard that businesses adopted the cloud at a record rate last year and are wondering what all the talk is about. Here are some questions people have when they initially start looking into the cloud and the answers to those questions.
Question 1: What is the cloud and what does the cloud do and what are my options when choosing a service?
The cloud is a server that you connect to via the Internet to get information. That information can be any software or data you have stored on that server. If you are looking into a cloud-hosting provider to fulfill any IT needs for your business, you have many options.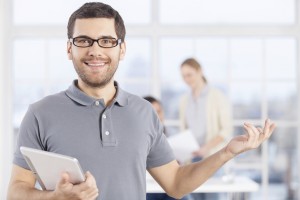 If your business is looking for Infrastructure solutions, you can store your data in a cloud server so you don't have to maintain your own servers. You can also use hosted software. This keeps your computing power strong and allows you to access your software from any device with Internet connection.
It's great to take a step back and look at your needs. Will this process be improved if you moved it to the cloud? Of course there are many pros. Your data is available from any location. Sick days can be a little more productive for employees because they have the option to work at some point during the day while they rest. Business trips can be improved by keeping you connected to the business. Small business can keep the cost of IT low and focus their spending on other aspects of their business. Whatever the reason, it is important to identify the benefits you want when you look into your options.
Question 2: How long does it take to integrate with the cloud?
Integration is quick! The service is there to host your data. It's a simple matter of uploading your files to the cloud. From there, they are accessible and you can even add any software when you need it. The technology is designed to be easily scalable and therefore can fit your schedule.
Do you need the cloud as soon as possible? Do you have a preferred time or a date you'd like to be connected by? Having a schedule in mind can lead you to finding the provider who can fit within that time frame and make the integration as seamless as possible.
Question 3: Data control and safety
Nobody has access to your data except for you. This of course can depend on the service you choose. On a public cloud, everybody is sharing resources. The private cloud gives your data the privacy you'd get from an in-house server. You have complete control over who can see your data and what anybody can do with your data. It is important to note that cloud providers do not claim any ownership over your information. They are simply there to provide a space for your business to locate its data. Being on a private server also keeps your computer running quickly. Public servers run the risk of over subscribing to shared resources so when that space fills up, you'll experience slower service and maybe even be booted from your data.
Finding a cloud provider really depends on what your business needs. There are many options out there so it is important to have a good idea of how exactly it is going to be a solution for your company.