Strategic technology trends are defined as having potential for significant impact on the organization in the next three years. We've discussed previous reports on emerging technology trends, buzzwords, and their Hype Cycle here: "The 'Internet of Things' (IoT) Buzzword Reached Hype Peak".
During the 2014 Gartner Symposium in Orlando, FL., analysts examined industry leading IT trends for 2015. We're providing a list to assist you in keeping up with trends, predicting changes in consumer preference, how it will affect your end users, and allow you to plan for your organization's long-term programs and initiatives.
Some of you may already have heard of and maybe have looked into implementing these technologies, but whether you choose to invest or adopt them in the near future, it's worth taking a look at now and deciding where to stand.
Three themes of 2015 Tech Trends are:
1.    Merging virtual and reality
2.    Intelligence everywhere
3.    Digital business
Top 10 Strategic Tech Trends 2015:

Computing Everywhere
BYOD is so 2012. For tech trends 2015 and beyond, wearable tech, phablets, and the like have expanded consumer electronics as connected screens in public and work environments.
The Internet of Things (IoT)
Technology goes beyond the IT department in 2015 so get used to interconnected devices and sensors in everyday objects. Business should begin to develop new uses for IoT to deliver value to and potentially decrease costs with preventive measures.
3D Printing
Worldwide shipments of 3D printers are expected to grow as a tech trend in 2015 by 98%, doubling by 2016. New industrial, biomedical, and consumer uses will expand and prove 3D printing is a viable and cost-effective option for streamlining  short-run manufacturing.
Advanced, Pervasive and Invisible Analytics
"Every application now needs to be an analytic App", but "Big Data" is not the answer. A must-do tech trend 2015 is to learn what big questions to ask first, then filter and manage the overwhelming data deriving from social media, IoT, and mobile devices to find their real value. Read "Dedicated Cloud Server Provide Reliable Connection to Your Data".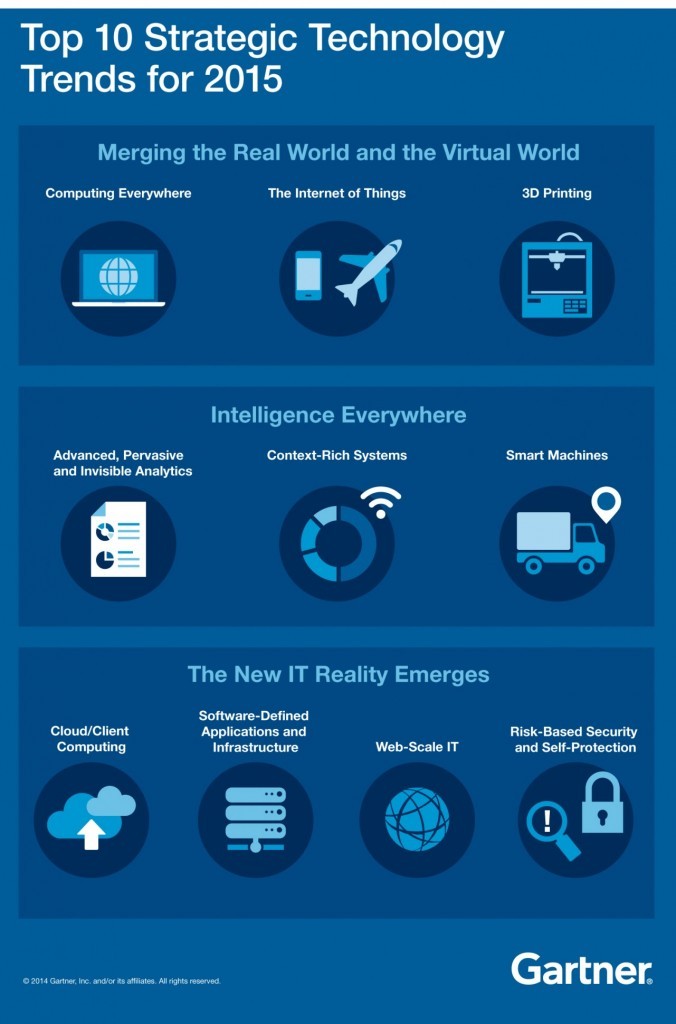 Context-Rich Systems
Combined embedded intelligence and analytics will achieve greater understanding of user request in both context and delivery.
Smart Machines
Autonomous vehicles, robots with personalities, and virtual assistants — Even though it made list of tech trends in 2015, they've already been in effect, and only expected to rapidly evolve. "The smart machine era will be the most disruptive in the history of IT"!
Cloud/Client Computing
The cloud and mobile computing remains to continually promote the growth of centrally coordinated apps deliver to any device with simple internet connection (the essential role of the cloud). New focus will be on synchronizing and integrating content simultaneously supported devices, and increased development in "second-screen" efforts. Stay up to date on Cloud Hosting news here…
Software-Defined Applications and Infrastructure
To deal with the rapidly changing demands of digital business landscape, IT will move away from static models to dynamic, configurable systems that support growth and scalability, such as software-defined networking, cloud services, and rich content APIs.
Web-Scale IT
More organizations will begin to think, act, and build applications and infrastructure like Web giants  (Facebook, Google) and adopting models found in large cloud service providers including risk-embracing culture and global-class computing in an enterprise IT setting."The first step toward the Web-scale IT future should be DevOps – bringing development and operations together in a coordinated way to drive rapid, continuous incremental development of applications and services." (Gartner)
Risk-Based Security and Self-Protection
Digital security will pave the way for the future of digital business. Acknowledgement that cyber security cannot be guaranteed 100% will motivate organizations to apply more sophisticated tools for risk assessment and preventative measures. Read more articles on Data Security here…
You might also enjoy these tech trends 2015 related articles:
Is Your IT Ready for 2015?
3 Expert Clouds Predictions for 2015- A $118 billion industry?
The "Internet of Things" (IoT) Buzzword Reaches Hype Peak (Gartner)