Remote Network Monitoring Tools for Your Business
When looking into tools to keep a better watch over your business's network, your goal is to avoid security threats and minimize time or resources spent to fix problems as they arise. By implementing tools that will allow you to fully monitor your system and address potential issues before they cause a problem, you'll not only gain control over your network security, but also benefit from predictable IT costs. The best method of protection, is prevention. Utilizing a monitoring service that also manages your system updates is the best way to ensure your company's digital safety.
You have several different options for remote network monitoring tools ranging from free tools that you set up yourself to using a managed service provider to handle the workload for you. Only your business is able to decide what the best route for your network depending on your current staff or budget.
Free Remote Network Monitoring Tools:
In the event you decide to go full DIY when implementing monitoring, you should be prepared for all that this entails. Your business will be handling all of the architecture, support, and monitoring needed to ensure your network is safe from viruses like WannaCry, which took down over 200,000 workstations worldwide.
Being flooded with too many updates that aren't necessarily important for your network is one of the oft-criticized downfalls of self-monitoring. If your staff is ill prepared or unable to identify business-critical issues from those that are less urgent, they may be prone to using a lot of time addressing every single issue. Or worse; not addressing them at all.
MSP Remote Network Monitoring Tools:
The preferred method of implementing a remote network monitoring solution is utilizing a managed service provider to handle the scope of the project. By outsourcing, you'll have a team of professionals tasked with monitoring your network, and in turn, providing updates on the overall health of your network. With an MSP-led remote network monitoring solution, issues will be identified before they have the opportunity to wreak havoc on your businesses systems, saving you money and ensuring business-critical uptime. Using a managed service provider makes the entire process simple, without requiring a sizable financial and personnel investment.
In the first quarter of 2016 alone, more than $209M in ransom payments had been paid to hackers, and often, the data being held hostage was never returned to the victims who ponied up the Bitcoin ransom. The bottom line is this, you can prevent being victimized by ransomware.
Triple Threat Protection from Trapp Technology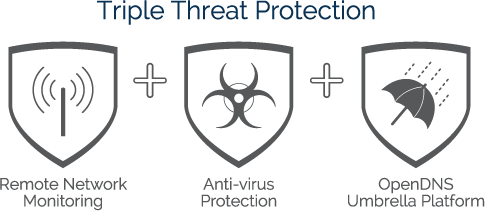 While companies certainly have the best intentions when it comes to being proactive about their IT security, they often end up reacting to a crisis rather than preventing one. Take control of your network security with Triple Threat Protection from Trapp Technology.
Remote Network Monitoring, ensuring each endpoint is always current on security patches and updates
Anti-Virus Protection, the most common line of defense against malware at the workstation-level
Open DNS Umbrella Platform, detecting threats before they reach your endpoints or network.
Learn more about Triple Threat Protection from Trapp Technology.
Related Articles: