Arizona Foothills Magazine Awards Two Titles to Trapp Technology in Companies and Professionals Category
PHOENIX, December 23, 2019 ─ Trapp Technology, a Phoenix-based provider of cloud, managed IT services, and cybersecurity solutions, today announced that the organization and its leadership were named Best of Our Valley in two categories by Arizona Foothills Magazine. Nominated for multiple awards in the Companies and Professionals category, Trapp Technology won the title of Best National Valley-based Company, triumphing over fourteen other Phoenix-based organizations. Chief Marketing Officer, Jay Bouche, won the title of Best Marketing Professional. Trapp Technology delivers managed IT services to clients in all fifty states, acting as a trusted technology partner for businesses of all sizes.
Since 1997, Arizona Foothills Magazine has celebrated the Valley's most influential people. Arizona Foothills Magazine and AZFoothills.com are dedicated to providing resourceful information on dining, entertainment, homes, fashion, culture and events in Arizona. The monthly publication has featured everything from the finest resorts and travel destinations to shopping and beauty to fabulous eateries and places to live. Each year Arizona Foothills asks readers what their favorites are, offering thousands of options chosen by nominations, editors, and focus groups. The Best of Our Valley contest is answered with hundreds of thousands of votes that determine the Valley's favorites. You can see the full list of winners for the 2020 Best of Our Valley contest on the Arizona Foothills website.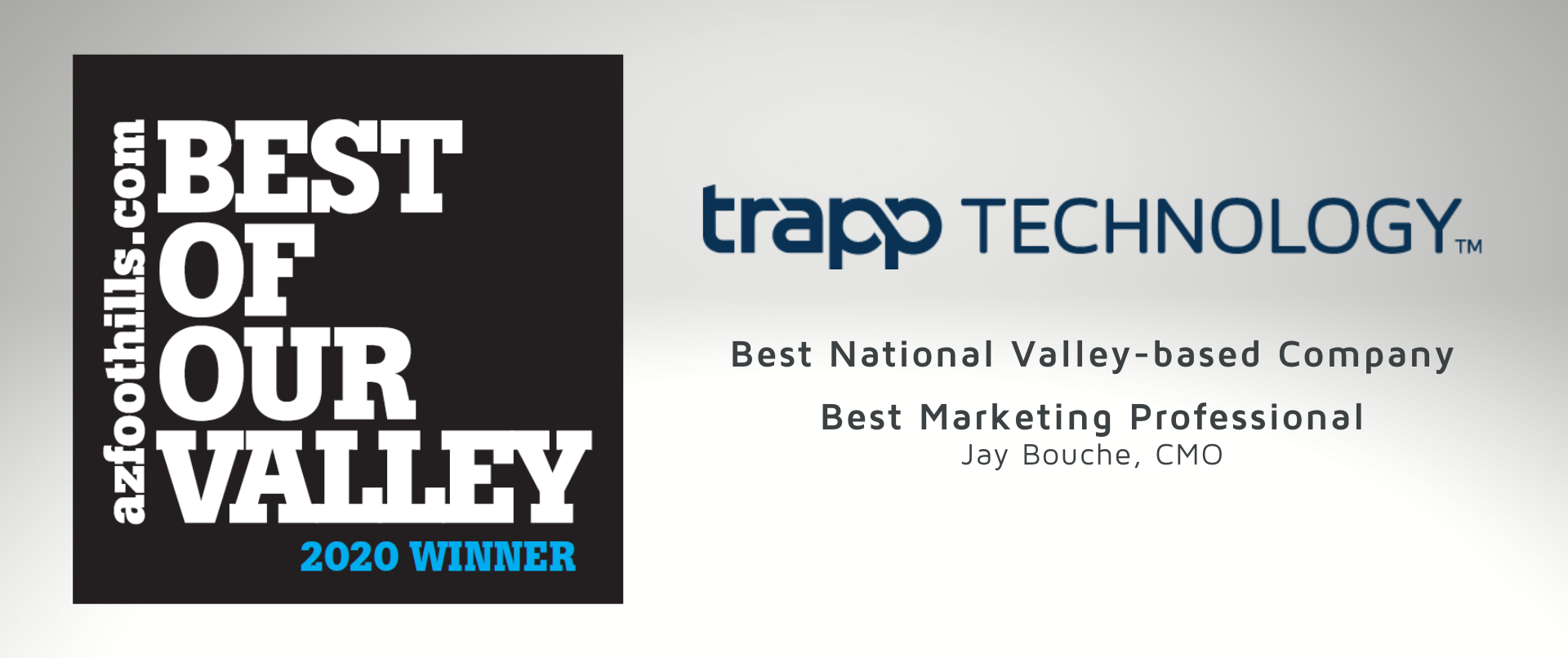 Trapp Technology was nominated for Best National Valley-based company alongside other notable companies including PetSmart, GoDaddy, U-Haul, and Taser International. Trapp Technology garnered over 69.4% of votes within the category, outpacing the second most-voted company by 49.14%.
"To win an award in a category designed to recognize companies with a national presence is a direct realization of my vision for Trapp Technology that dates back to 2007," says David Trapp, CEO and Founder of Trapp Technology. "Phoenix is the city that fostered our early years of growth, and we are proud to have our national headquarters based right here in the Valley."
Jay Bouche, Chief Marketing Officer at Trapp Technology, is an IT marketing veteran who relies on his expertise in lead generation and sales enablement to support the organization's aggressive growth strategy, bringing his data and analytics-based decision making to turn the company's marketing efforts into a predictable, machine-like operation.
"Just being in the running for the Best of Our Valley award is a great honor," says Bouche. "That I was named the winner in a category with such brilliant marketing leaders still elicits feelings of immense pride and gratitude."
Winners of the Best of Our Valley contest receive an editorial mention in the April 2020 edition of Arizona Foothills Magazine.
About Trapp Technology
Trapp Technology provides the very best cloud, IT, VoIP, and security services to deliver a true all-in-one IT solution for businesses who seek to cut IT costs and leverage technology to grow revenues. Trapp Technology's services are designed to appeal to the growing number of medium- to enterprise-level businesses looking to outsource more IT infrastructure and application management services to help reduce total cost of ownership and free up internal resources, as well as those companies seeking the skills and support to quickly complete complex IT projects. For more information, visit trapptechnology.com.
Media Contact
Ashley Capps Merkley
Director of Marketing
acapps@trapptechnology.com
480.351.8071