Cloud-Based Disaster Recovery
It's universally agreed upon that businesses need some form of disaster recovery in place. What varies from company to company, however, is how vast your planning needs to be. The biggest variable of all: Budget. Finding the magic number that is both affordable while still providing quality service is a difficult process.
It's difficult to budget for something that is such a new and developing technology. Cutting edge solutions are a tricky situation because you may not be familiar with the technology or the amount of required resources. Budgeting too little could mean you're left with a sub-par solution, but budgeting too much is never a good way to get funding approved.
Using the cloud for disaster recovery is a new frontier for some, so we've established three steps to help you outline your disaster recovery plan.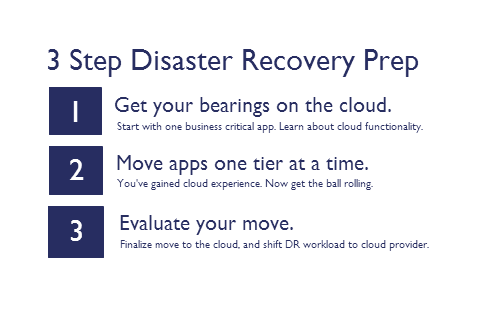 Get your bearings on the cloud.
If you've never used your applications in the cloud, now is not the time to go all in. Move one business-critical app, and let your provider give you a guided tour of the cloud. Usually, businesses choose an application that has little to no current backup plan in place, so that any data redundancy implementation is a step in the right direction.
Initially moving only one application to the cloud will give you an idea of cost, turn around time, and what kind of support your hosting company can provide, all without putting all of your eggs in one basket straight away.
Use this experience to learn the ropes and gain the knowledge needed to make informed decisions for future application hosting.
Move apps one tier at a time.
If you've already classified your business-critical apps into tiers, or levels of protection, this will make this step easier. Once you've gotten some cloud experience under your belt, choose a tier of applications and move them to the cloud. Use the information and lessons you learned in step one to aid you in this process.
Evaluate your move.
Revisit your original goal: was it accomplished? Your goal can vary from creating your very first back up plan, to alleviating IT staff from the task of performing back ups, or even just cutting costs by outsourcing your disaster recovery management.
There is no standard solution for businesses when it  comes to disaster recovery, but these three steps are a great starting point for companies looking into the security the cloud provides.
Continue researching Disaster Recovery:
Cloud Based Disaster Recovery: Whiteboard Wednesday
Having an IT Disaster Recovery Plan: The Basics
From High Tech to Low Tech: Why Arizona Weather Works