Optimize CRM Software with Cloud Hosting
Hosting your CRM in the Cloud can become the competitive advantage you've been looking for.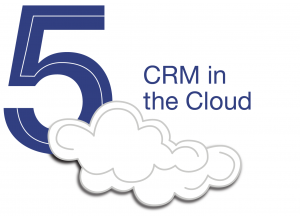 In today's business environment, utilizing a reliable customer relationship management (CRM) software is essential. CRM serves as a comprehensive gateway to all customer activity with cross-departmental capabilities. Customer insight becomes more in-depth when all users access the same database and communicate efficiently on the same system.
There's a variety available for small to medium-sized businesses, including Sage CRM, SAP, Salesforce, Goldmine, and Sugar CRM, for example. Each software serves as a good tool on their own, but running CRM in the Cloud could be the competitive advantage you've been looking for!
Here are 5 Things Optimized with CRM in the Cloud!
1. Full-featured CRM:
Having CRM in the Cloud means not sacrificing any features, modules, compatibility or usability! That's because CRM in the Cloud users will work on software that has the same exact look and feel of their current software, not a limited online edition that some software companies will try to offer.
2. Drive Sales Productivity:
Accelerating sales performance through CRM software is even more effective when hosting CRM in the Cloud. Ensure your sales team is on the same page on al direct sales efforts by granting simultaneous access to all users on your CRM in the Cloud.
3. Strengthen Marketing Campaigns:
Hosting CRM in the Cloud creates seamless collaboration when users are guaranteed to work with the most updated client information, in real-time, ensuring your team is on the same page on all marketing and sales efforts.
4. Mobilize CRM:
Why limit yourself to a centrally-located device in your office? Imagine utilizing all your CRM software features including E-mail, Marketing, Purchase Orders, E-commerce Activity, and HR anytime, anywhere. Accessing key customer data on any PC, Mac, iPad, tablet, smartphone, iOS or Android smartphone with Internet capabilities is now possible with CRM in the Cloud!
5. 3rd Party Integration:
The best part of a fully integrated CRM is streamlining critical processes between users and other systems. CRM in the Cloud elevates this feature with seamless 3rd party application integration, such as QuickBooks, DropBox, Microsoft Suite, Outlook, Excel, and Adobe Reader! Some applications may be included with your CRM in the Cloud package, while others may cost a small monthly fee.
Customer relationship management can happen outside of the workday and office, and CRM in the Cloud is designed to support those efforts. Hosting CRM in the Cloud allows your business to make the most out of your software's critical features and flexible modules but it needs to be needs to be implemented correctly, with strong administrative understanding, seamless integration with current systems, and on a reliable, ultra-secure cloud server.
If you're ready to host your CRM in the Cloud, Contact Us here and we'll get in touch soon or try a 30 Day Test Drive for yourself!